Odeón Awards return 10th March with a virtual ceremony
16-02-2021
The second edition of these new awards broadens to 23 categories and builds on the value of music in most difficult times
Odeón Awards, the new music prizes fostered from 2020 by the Spanish recording music industry, shall live their second edition on 10th March with a virtual format, avoiding physical celebrations in a moment when coronavirus pandemic is still seriously hitting and a worldwide cause of concern.
The Odeón Awards started out and were announced at the end of 2019 by AGEDI, the collecting society in charge of managing phonographic producers' intellectual property rights. Efforts were made and gave fruit to recover popular music industry awards that had completely disappeared during most harsh economic and music industry crisis. Public chose award-winners through their active participation in music consumption both in digital platforms and physical sales during the previous year. This year the gala is cancelled, but this doesn't mean that artists and recordings that hit during 2020 should not be awarded.
Online venue and new categories
Inevitably marked by the health situation, choice has been made to present Odeón Awads 2021 online. Winners will be disclosed along the day on Odeón Awards social media (Twitter, Instagram and Facebook) and website, which will immediately be active.
This year, the awards have some news regarding categories. Specifically, the 11 initial categories grow to 23 in this edition, increasing this way the music genres acknowledged as mainstreaming awards. Besides, male and female categories get merged, in line with trends of other international prizes.
Following the method used in the first edition, nominees have been nominated by AGEDI's organising committee on the basis of sales and streams accumulated by bands and singers along the season. However, as the number of awarded genres grows, the selection process has counted on the valuable opinion of industry experts, from member companies of AGEDI as well as representatives of other sectorial associations such as the Catalan producers association (APECAT), music promoters gathered at APM, ARTE representatives and the Spanish federation of music ES_ MÚSICA (Federación de la Música de España), for greater representativeness and diversity of nominees.
Awarded categories this year are the following:
Odeón Awards 2021
Pop
Best Pop Song
Best Pop Album
Pop Odeón Artist
Pop Odeón New Artist
Rock
Best Rock Album
Rock Odeón Artist
Rock Odeón New Artist
Urban (includes reggaeton)
Best Urban Song
Best Urban Album
Urban Odeón Artist
Urban Odeón New Artist
Flamenco
Best Flamenco Album
Flamenco Odeón Artist
Flamenco Odeón New Artist
Alternative
Best Alternative Album
Alternative Odeón Artist
Alternative Odeón New Artist
The list of awards gets complete with four more prizes in the following categories:
Latin Odeón Artist
International Odeón Artist
Best Music Video
Best Live Performance
And two special awards:
Best Covid Project Odeón Award
Honour Odeón Award
During the online presenting of Awards, promoters shall also vindicate the role of music as a social, reassurance and resilience catalyst in these historic tough moment. Also the value of the phonographic industry shall be promoted in such a difficult time, showing one more time its adaptive capacity while promoting a number of albums and songs despite the complex circumstances. It will be the time to thank so many musicians for their dedication and work during the toughest, bewildering and desolate weeks of the lockdown. Odeón consolidate as the new music industry iconic awards in Spain.
#PremiosOdeon
LIST OF NOMINEES BY CATEGORY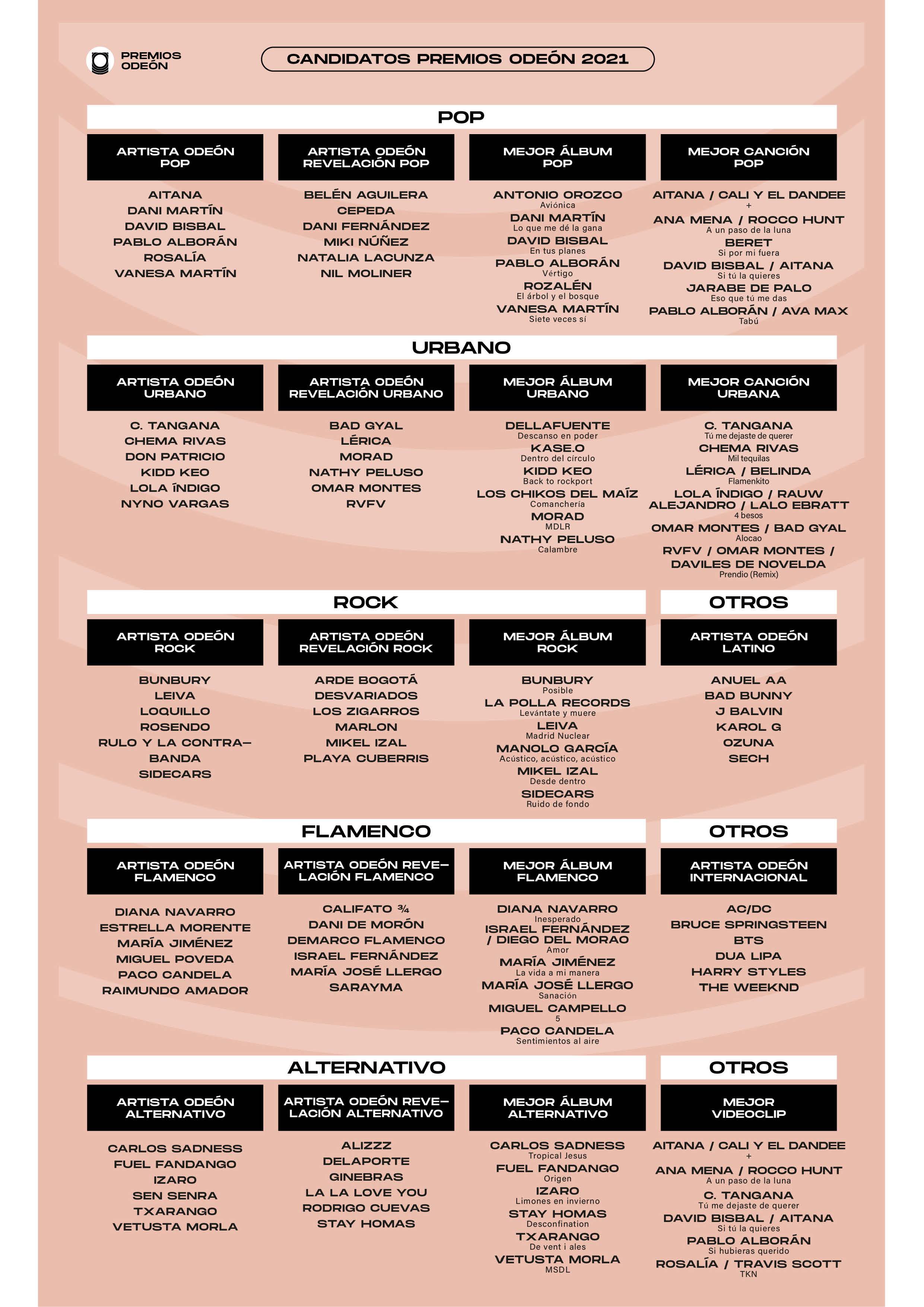 For more information: Relabel Comunicación +34 91 435 68 08 / prensa@relabel.net
< Volver a listado de noticias