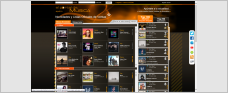 El Portal de Música reaches over 50 thousand monthly unique visitors
The website providing access to streaming, digital downloads and the charts experiences a five-fold increase in only one year
El Portal de Música, website sponsored by Promusicae to promote the work of Spanish and international artists of all genres published in Spain, has seen an exponentially growth of visits during the last year. The site broke the roof of 50,000 unique users just at the end of August, a five-fold increase compared to the same month last year. A constant improvement in contents, the recently available English version and a better search engine positioning explain the dramatic rise of elportaldemusica.es-
Promusicae launched www.elportaldemusica.es in autumn 2009 as a new communication channel to promote the works of artists signed by Spanish record labels members of the association. Throughout these years contents have refined and increased substantially and today internet users can listen to music streams from thousands of artists, access exclusive content, buy songs and albums from all legal online shops, see official charts or contact directly with musicians and bands via social networks. And from May, all this is also available in English to assist the bands in their internationalisation projects.
Constant improvements have resulted in a notably increase of visits of the site. In the summer of 2013 El Portal de Música had some 10 thousand monthly unique users, while only in the first five months of 2014 the visits accounted to 205 thousand. Now, the landmark of 50 thousands unique visitors in a single month has been reached in August for the first time in the site history; these visitors resulted in 383 thousand accumulated visits.
Technical improvements of elportaldemusica.es have also contributed to the increase in the number of visitors. Experts and programmers of Promusicae have worked hard to get a good position in Google and other search engines, when internet users make searches such as "music chart", "sales chart", "music what's new", "Top música" or "Latest music news". The tremendous information deployed by contents within El Portal de Música have been intensively promoted for the last months on social networks, and particularly on Facebook and Twitter accounts. Today, El Portal de Música Twitter account reaches 12,800 followers, a two-fold regarding last year's.
Promusicae's president, Antonio Guisasola, congratulates on the good results seen in this relatively young website. "El Portal de Música has become one of the most valuable and efficient promotion tools available for our artists, both national and international". He added: "Promusicae has always made efforts to multiply the channels to promote the works of its artists, and El Portal is now providing good prospects regarding information, sales and exports. We are glad to have found such an exciting action approach and to position the site as a music reference in Spain."
More Info:
Relabel Comunicación
Phone +34 91 435 68 08
E-mail: prensa@relabel.net