Sales of digital music already match physical sales internationally
IFPI launches Digital Music Report 2015
Global phonographic industry income reached almost 15 billion dollars, 0.4 percent lower compared to 2013
41 million users of streaming services are paid subscriptions
Bestseller album was Frozen OST, while Pharrel Williams' "Happy" was bestseller song
The confluence of digital and physical music sales was only a question of time, and it finally happened in 2014. Recording industry income from songs downloads and streams rose during last year to reach 6.85 billion dollar (almost 6.5 billion euro) worldwide, figure that already overcomes slightly the value of CDs and vinyl sales (6.82 billion dollar, 6.4 billion euro). In global terms, recorded music created a business valued in 14.97 billion dollar, a slight contraction of 4 tenths of percentage regarding previous year's 15 billion. So is stated in this new edition of the Digital Music Report, the International Federation of the Phonographic Industry's annual report on the sector.
DMR 2015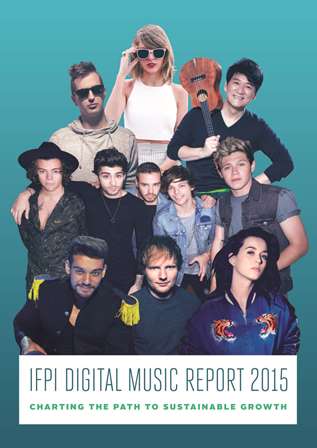 The survey review of the phonographic industry situation during 2014, launched today in London, reveals that digital music and physical carriers represent 92 percent of the business (in a virtual tie of 46% for each of them). Public communication rights (6%, representing 950 million dollar) and synchronization (2%, 350 million) complete the revenues pie for a sector that becomes stable thanks to the multiple offer of formats for worldwide music fans.
Global scenario is not fully comparable to the specifications of the Spanish market, where physical sales still overcome comfortably digital sales (58 vs 42 percent) and the improvement in revenues, of 21.1 percent, are only explained as a result of twelve consecutive years of losses. Physical revenues are still much higher that digital in the case of three of main international markets, Japan (78 percent), Germany (70%) and France (57%). And sales of vinyl have grown almost 55 percent globally, reaching revenues of around 350 million dollar (2 percent of total invoicing). It can seem to be a modest figure, but LP was a virtually extinct format only four years ago.
The strength of digital business is in turn being internally readjusted, according to the information provided by IFPI. Streaming services relentlessly advance while downloads are reducing significantly (8 percent decrease). The estimation is that there are already 41 million music fans that pay a monthly tier to access premium services of Spotify, Deezer, Napster and alike, which represents a 46.4 percent increase in the number of subscribers. And perspectives are even more optimistic for 2015, year in which new payment services will be launched: YouTube' Music Kea, TIDAL promoted by rap singer Jay Z, and the long-awaited Apple subscription service. Besides, these streaming services free versions would sum up some more 100 million users.
The new edition of the Digital Music Report also includes an extensive list of digital music consumption habits for top 13 music markets, among which one of Spain. It reveals that 69 percent of Internet users usually consume music legally, either with free or paid tiers. Besides, the push of younger consumers leaves an interesting fact: 38 percent of internet users prefer listening to music online rather than owning the physical CD or the downloaded file. The downside is that still 20 percent of users go to illegal services, such as P2P services, to access music files. This percentage almost doubles in Spain, according to last Promusicae estimations.
Global release day
In any case, the recording industry is confidence in 2015 as a year to reactivate the market thanks to the implementation of Friday as single day of new releases globally (so far, each country chooses different week days to release albums and singles). This synchronised release day will start on 10th July 2015 and its aim is avoiding discriminations among different markets (some music fans could enjoy their favourite music earlier than others, depending on their country of residence) and also enhancing promotional campaigns in weekends, days that concentrate consumption of cultural and entertainment activities.
[Rest of the new in Spanish]
Read IFPI press release here.