Music sales in Spain grow, although the industry anticipates setbacks for the second half of the year
Physical carriers maintain, with 32.5% of the market and a sharp increase of vinyl
The new industry challenge: enhancing Streaming Premium subscriptions
Economic recovery in Spain also consolidates in recorded music sales. Following the uninterrupted drain suffered by the sector between 2001 and 2013, activity recovered with figures still moderate for the next three years, but during first half 2017 it has experienced an encouraging growth of 13.78 percent regarding the same period last year. Specifically, Spaniards invested a total of 83.4 million euros in recorded music during first six months, compared to 73.3 million accounted the year before. However, prospects for second half are not very optimistic after last discussions with streaming platforms that, for the sale of finding the necessary profitability for these business models, shall lead to a loss of revenue for the full year.
The unquestionable success of streaming, online music consumption without file download, is still behind the positive figures. Digital subscriptions' revenues of platforms such as Spotify, Apple Music, Google Play, Deezer, Napster or Amazon Music Unlimited (recently launched in Spain) have gone from 17.6 to 24.9 million euros in the six-month period, equivalent to an increase of 41 percent. Consumers welcome like this the possibility to access most extensive catalogues with over 40 million songs for a monthly fee of less than 10 euros. The future of the sector in Spain depends to a great extent on the acceptance of this product and its growth, once it succeeded to overcome the figure of one million paying subscribers.
The problem that could face the Spanish market comes from ad-supported audio streaming. Figures for first half remained stalled in the same numbers of the previous year (15.8 million revenues), anticipating less favourable prospects in this section. Recent renewals and reviews of contracts between Spotify and record companies (there are existing agreements with Universal, Sony, Warner Music and Merlín, as representative of the independent companies) penalize the free tier streaming, still well-established in Spain, opposed to what happens in other neighbouring countries.
Specifically, IFPI's Global Music Report 2017 reveals that ad-supported streaming represents only 2.5% of total streaming revenue in Sweden, 4% in the United Kingdom, 4.8% in Germany, 10.2% in France or 16.4% in Italy. European average is 7.9%. In Spain, however, still equates to 31.2% of total revenues, so it is to be expected that a good global figure for the digital market, with a general growth of 21 percent, will be marred in year-end figures.
Music videos on the Internet: the great value gap
Music video viewing on YouTube or Vevo, free platforms financed by advertising placements (video streams) also see a significant increase of 43.5%, from 6.5 to 9.3 million in revenues. Both Promusicae and the International Federation of the Phonographic Industry (IFPI) highlight the paradox that these video streams are the main source of music consumption, while representing only 18% of the total streaming income. 96 percent of Spanish Internet users visited sometime last year YouTube, and 90 percent of them used it to listen to music, as stated in the Music Consumer Insight Report 2017.
This mismatch between the enormous relevance of music in videos platforms and the poor return generated is what the sector has been calling the "value gap". And it is the origin of repeated complaints made by important musicians for the last months on the functioning of YouTube, Vevo, Dailymotion and the likes.
Physical carriers
The other encouraging detail from what has happened between 1st January and 30th June 2017 is found in physical carriers. Sales have clearly lagged behind compared to digital, but they experience a shy 1% advance (2016 finished with a 22% drop). In particular, 26.8 million revenue generated during first half 2016 grew to 27 million during the just finished term. CDs lose 2 points (from 22.9 to 22.4 million), but there is a feeling somehow optimistic regarding the second part of the year, given the upcoming important releases. Besides, the rise of vinyl is not anecdotal anymore. In this something of a second youth, 33 revs experience a growth spurt from 2.7 to 3.7 million in sales: 38 percent more.
The evolution would be more favorable in general but for music DVDs, still in free fall. In this period, one million revenue dropped to 566,000€.
As a matter of fact, the clear dominance of the digital market compared to physical is confirmed, a situation that was guessed in 2015 and was confirmed in 2016 without a coming back. Now. 67.5 percent of the sector revenue come from digital music, while the traditional carriers must make do with the remaining 32.5 percent.
Promusicae's president, Antonio Guisasola, made an overall assessment as "encouraging for a calendar period in which big releases are not abundant", but he was very cautious before the close future. "Digital market is under full development and not sufficiently grown as for being sustainable with only ad-supported models", he warned. "Thus, it is very good news that digital music consumption keeps growing, but we need music to be remunerated adequately. And this will only be possible if fans switch to subscription models that, besides constituting an inexpensive option, allow to take control and enjoy the tremendous amount of music available".
Music Consumer Insight Report corroborate the increase of digital music consumption
Along with the release of the Spanish figures for the first half, IFPI has also released in London the 2017 edition of the Music Consumer Insight Report. Connecting with Music, international survey carried out by Ipsos Connect which reviews and updates music consumption models in 13 most relevant global markets, among which is the Spanish one. Data presented, from Internet users aged 16 to 64 years old, confirm the increase in the use of new modalities offered by the industry. Specifically, 45 percent of music fans used any modality of streaming, a percentage that was 37 percent in 2016. Besides, 9 out of 10 premium streaming subscribers use their mobile phones to enjoy their music subscription.
Spain is one of the countries where consumers most use their smartphone to enjoy their favourite acts music. Percentage went from 65% in 2016 to 72% this year, percentage only surpassed by Mexican (91%), Brazilian (85%), South Korean (80%) and Italian (73%) fans, and ahead or Swedish (68%) US American (63%), German (61%) or French (57%).
One of most encouraging details of this Connecting with music: The 2017 Music Consumer Insight Report is the great interest that youngest people, 13 to 15 year-old boys and girls, have for music. Among them, 85% listen to music in streaming (79% video and 67% audio). From those listening to audio streaming, 37 percent do through paying models and 63 percent with free modalities. And there is a figure that supports future viability of physical carriers: 37 percent of these young people aged 13 to 15 listen to CDs and 19 percent enjoy vinyl.
But IFPI research highlights in all its harshness that "value gap" artists complain about regarding music videos. Almost half (46%) of all time devoted to streaming of songs in the world takes place on YouTube. In Spain, this percentage rises to 48%. Whereas some use it to discover new music, the majority (76%) do so to listen to music they already know. And all this consumption only generates, as can be seen in the first half figures, 18% of all revenues in Spain.
Furthermore, digital piracy keeps being a most relevant problem for the industry. 40% of the users access music illegally, even now when streaming is so broadly established and multiplying the number of premium users. The new greatest enemy for the industry is now stream ripping, or turning streamed songs into downloadable and permanent files in the user's computer or device. This is something that 35% of Internet users do (30% according to the 2016 survey), aggravated by the fact that the percentage rockets to 53% in the case of 16 to 24 year-old Internet users.
Link to infographic music market:
Link to the IFPI report: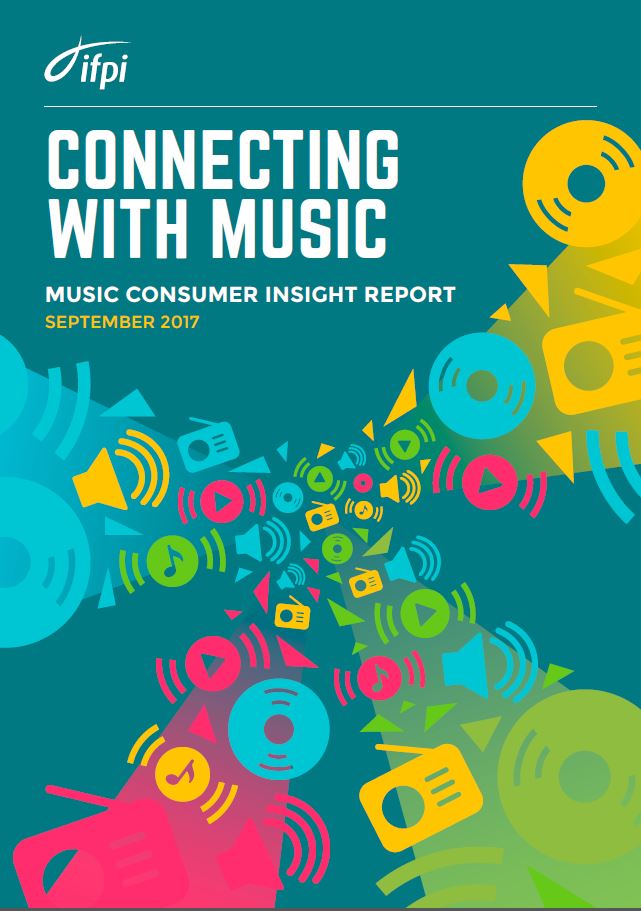 More information: