"Artists and professionals that make possible live music", awarded with the Odeón Award in the category of Best Live Performance
Manuel Carrasco has been the one to unveil the first of Odeón Awards 2021
10th March Awards will be presented in a virtual ceremony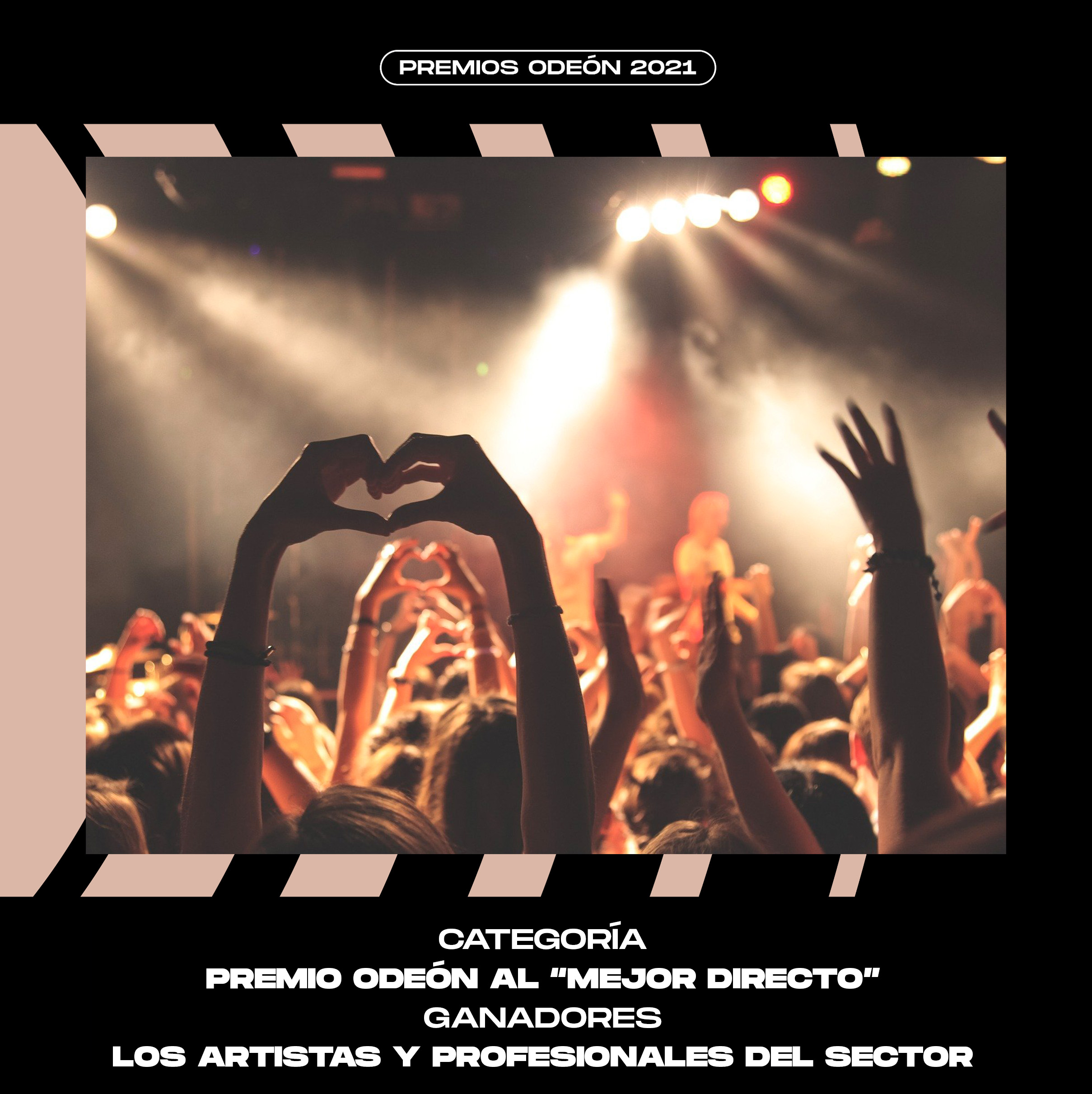 Find here the video with Manuel Carrasco's message
The Odeón Awards organising committee has awarded the first of 23 recognisions to be presented in the second edition to "the artists and professionals that make possible live music". Decision not to give this award to a single artist and, instead, recognising the work of all professionals – artistic and technicians – that make possible tours and concerts is a strong appreciation and expression of solidarity by the music industry of a sector extremely hit by the crisis during 2020.
Live music struggles through an enormously difficult time as a consequence of restrictions set by COVID-19. Authors, artist and music performers, concert promoters, artist reps, concert venues, music festivals and many other professionals linked to this activity who depend on these concerts (over 300,000 people are employed in the sector) have lost their jobs and go through a high anxiety and uncertainty time. Almost one year on without tours, festivals or acts in popular festivals due to the halt in musical events (loss in turnover is calculated over 85% compare to 2019), the unknown of a soon reactivation of live music and the lack of specific supporting measures by public administrations is cause of great concern.
APM and ARTE, associations representing live music professionals and companies, and the Spanish federation of music ES_ MÚSICA (Federación de la Música de España), have taken advantage of the presentation of this award to join to the acknowledgement and vindicate a necessary and safe culture. At the same time, they urge the Ministry of Culture and Sports to adopt urgent action. Among other, the claim for extraordinary direct economic help to stop the destruction of the industry tissue and that of a joint work to kick off a Contingency Plan to Reactivate Live Music that can act as a rescue and structural maintenance of this heavily hit music sector.
Virtual venue and online celebration
Manuel Carrasco has been the one to unveil, through social networks, the Odeón Award 2021 to Best Live Performance. Winner of same prize last year, his tour "La Cruz del Mapa" was one of most extensive concerts programme for 2020 and had to be put off. Manuel Carrasco and his team phenomenally symbolise the situation of the cultural industry, in the face of what represents the loss of an important part of their activity and the impact for a collective which gathers a wide number of professionals.
The decision to exceptionally communicate today this award is to demonstrate Odeóns commitment to affirm the value of music in toughest times.
In the second edition, unavoidably marked by health situation, choice has been made to present those awarded virtually, without a on-site gala. Next 10th March is the date when the winners of Odeón Awards 2021 shall be unveiled through Odeón Awards social media (Twitter, Instagram and Facebook) and website.
About Odeón Awards
The Odeóns are promoted by AGEDI, management society of intellectual property rights of phonogram producers. They recover the tradition of annual awards for the Spanish music to show its social relevance and consolidating as a reference for our music scene. In 2021, the second edition of the awards includes some news regarding categories. Specifically, the initial 11 categories grow up to 23 in this edition, allowing for the recognition of more music genres. Nominees have been appointed on the basis of accumulated sales and streams by different bands and solo artists along the season. The selection process counted on the valuable opinion of industry experts, from member companies of AGEDI as well as representatives of other industry associations such as the Catalan producers association (APECAT), music promoters gathered at APM, ARTE representatives and the Spanish federation of music ES_ MÚSICA (Federación de la Música de España), for greater representativeness and diversity of awards.
#PremiosOdeon