Raphael awarded with the Honour Odeón Award 2021
José Luis Perales unveiled the award in social networks
10th March Awards will be presented in a virtual ceremony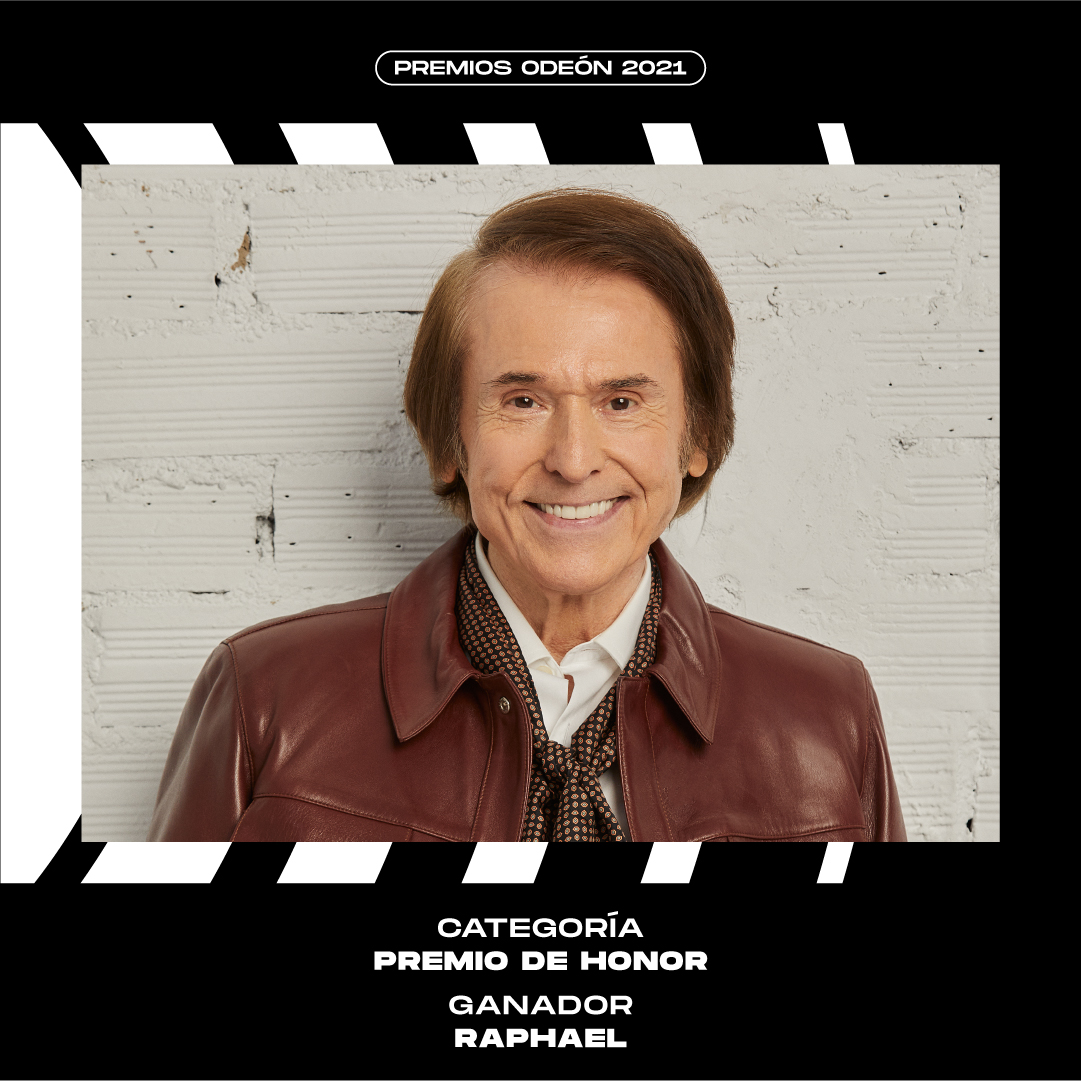 The organising committee of Odeón Awards has unanimously decided on giving the Honour Odeón Award to Raphael in its second edition. The Spanish music industry acknowledges the career of one of main active artists of popular music. With over six decades on the stages, the roster of hits collected is endless. Owner of a myriad of Gold and Platinum awards, he can claim to be the only Spanish artist awarded with a Uranium disc, for accumulated sales of over 50 million units. His fame crossed borders, taking our music not only to all Latin America, but also to countries as far afield as Russia, France, Australia, The United Kingdom, Japan or the United States of America. Indisputable icon of music, the recently named Honorary Citizen of Andalusia opens with this Honour Odeón Award, new to his shelves, a year full of professional schedules when he will resume the concert tour throughout Spain to present his last published work, Raphael 6.0, in which he would inevitably go over his all times greatest hits for the enjoyment of fans and public.

A huge artist
It's a major challenge to try to condensate in a few lines Raphael's daunting artistic and professional career along 60 years. We are referring to an artist that has performed on stages across half the world, from small theatres to enormous stadiums, bullfigthing arenas and indie festivals. Solo or with a symphonic orchestra. His artistic ability has allowed him to be a singer, an actor, to star musical plays and special TV performances, to wish us Merry Christmas or to collaborate, together with artists such as David Bisbal, Rocío Jurado, Paul Anka, Tom Jones, Alejandro Sanz, Luis Fonsi, Manuel Carrasco, Pablo López, Vanesa Martín, Joaquín Sabina, Pablo Alborán, Alaska or Serrat, to name only a few, in some unforgettable duets. Raphael is a huge artist with a vast repertoire. His songs have become anthems, chorused both at concert halls and wedding happenings. Mi gran noche, Digan lo que digan, Qué sabe nadie, Estar enamorado, En carne viva, Como yo te amo, Escándalo…Raphael is a well-deserved Honour Odeón Award 2021 winner. He could have devoted to any discipline, but he chose to be just essential to our music, capable of surprising all public with each single new idea. Out of the comfort zone and humble as a beginner.

Song's Giants
Jose Luis Perales, another giant of Spanish music, awarded with last year's Honour Award, has been the one to unveil the name of Raphael in social media, in advance of the annual presentation of awards scheduled for next Wednesday 10th March. This distinctive award merited its own and highlighted space in a week when the rest of the winners will be known. For each edition of the Odeón Awards the organisation shall present a Honour Award to an artist whose career is a milestone within our country's music history.

The second edition of the Odeón Awards is presented online, without a on-site gala due to the health issues. Next Wednesday the winners of the remaining 21 categories of the Odeón Awards 2021 shall be disclosed on social media (Twitter, Instagram and Facebook) and website. It will be a virtual venue within reach to all fans and followers of all nominees for an award, which can be seen on www.premiosodeon.com.

About Odeón Awards
The Odeóns are promoted by AGEDI, management society of intellectual property rights of phonogram producers. They recover the tradition of annual awards for the Spanish music to show its social relevance and consolidating as a reference for our music scene. In 2021, the second edition of the awards includes some news regarding categories. Specifically, the initial 11 categories grow up to 23 in this edition, allowing for the recognition of more music genres. Nominees have been appointed on the basis of accumulated sales and streams by different bands and solo artists along the season. The selection process has counted on the valuable opinion of industry experts, member companies of AGED, the Catalan producers association (APECAT), music promoters gathered at APM, ARTE representatives and the Spanish federation of music ES_ MÚSICA (Federación de la Música de España), for greater representativeness and diversity of awards.


#PremiosOdeon
www.premiosodeon.com