Winners of second edition of the Odeón Awards revealed
Aitana, C. Tangana, Ana Mena, David Bisbal, Dua Lipa, Leiva, María Jiménez, Pablo Alborán, María José Llergo and Vetusta Morla, among most prominent awards.
Stay Homas, Best COVID project, representing Spanish musicians creativity in a difficult year.
The second edition of the Odeón Awards has completed a week of celebration of music, with different venues to present the awards to last year's most significant hits in Spain. The virtual venue today revealed the 21 winners of the categories still to be known, after the organisation unveiled the Honour Award and Best Live Performance Award some days ago. Ana Mena feat. Rocco Hunt, David Bisbal, Bunbury, Kidd Keo, Israel Fernández & Diego del Morao, Txarango, Dua Lipa, RVFV, Marlon, María José Llergo, La la love you, Nil Moliner, Stay Homas, Chema Rivas, Aitana feat. Cali y el Dandee, Bad Bunny, María Jiménez, Vetusta Morla, Leiva, Pablo Alborán y C. Tangana were awarded during the lapse of two hours where notorious influencers were presenting online with videos and posts, one by one, the list of winners. Social media, a usual communication and contact point for artists and their fans, has been the venue chosen for the public acknowledgement and applause to more successful music in a year loaded with hiccups for all artists. The society managing record producers intellectual property rights, and promoter of the awards, AGEDI, made the decision to maintain the award in a virtual online format, without a on-site gala, due to the health issues. An unparalleled award presentation, radically different to that held last year at the Royal Theatre of Madrid, in what was the return of the annual awards recognising successful music in our country.
Last 4th March, Manuel Carrasco unveiled the first of prizes, that of Best Live Performance, which went to "the artists and professionals that make possible live music". And this week, the organisation announced another major award on Monday. Raphael was awarded with the Odeón Honour Award 2021, this time from the hands of José Luis Perales, awarded with the same recognition the year before. For today's journey there remained 21 awards out of 23 total role.
Actresses, actors, influencers, top models, tiktokers and youtoubers, with nationally and internationally very relevant profiles and a social reach over 30 million followers, have been in charge of revealing the award-winners.
"Likes" and virtual applauses for a social media award presentation event
Movement in social media (Odeón Award's Twitter, Instagram and Facebook) started at noon with the Best Music Video Award to Ana Mena & Rocco Hunt with A un paso de la luna. Before continuing with the presentation, the awards paid tribute to all those artists and music professionals who lost us along last year. Following this emotional moment, David Bisbal received the Odeón Best Pop Album for his last work En tus planes. Odeón Awards have extended categories vis-à-vis the first edition, allowing for different music genres. Next prize announced went to Bunbury's Posible, this time as Best Rock Album. With a cadence of 5 minutes, awarded were coming. Best Album added winners with Spanish rapper Kidd Keo's Back to Rock in the category of Best Urban Album, Amor by Israel Fernández & Diego del Morao as Best Flamenco Album and De vent i ales by Catalan band Txarango winner of Best Alternative Album award. Next, Dua Lipa received the Odeón International Artist, evidencing the higher and higher success of this young pop diva in our country.
Virtual ceremony continued with new artists' awards in different categories. The Urban Odeón New Artist went to RVFV, artistic name of Rafael Ruiz, a young musician who at the age of 20 see his works recognised in the fields of reggaeton and trap. Marlon, emerging band, received the Rock Odeón New Artist. In the flamenco category, the prize went to Cordoban María José Llergo. La la love you confirms their rocketing career with Alternative Odeón New Artist, and talking about pop, the winner was Nil Moliner (Pop Odeón New Artist).
Best Covid Project in gratitude to musicians during lockdown
For many artists, recorded music has starred the most direct way of expression with their fans in moments of pandemic and the forced absence from stages. This has been the case of Stay Homas and the song created from the balcony of the flat they share in the Barcelona quarter Eixample, and they received the Best Covid Project Odeón Award in representation of the creativity shown by Spanish musicians in tough and uncertain times. This new category of the Odeón Awards was created for this edition as an acknowledgement and gratitude to the various efforts made by musicians during the lockdown.
Spanish music, which in 2020 proved to rise to the occasion, didn't stop giving us new songs and compositions, coming week after week mainly in digital format, to overcome the obstacles of physical distribution due to preventive closures. Odeón Awards reward the public's choice through their music consumption in digital platforms and the acquisition of physical formats. In what respects to this criteria, Best Urban Song goes to Chema Rivas' Mil tequilas and Aitana feat. Cali y el Dandee is awarded as Best Pop Song with +, adding a second Odeón award in the, so far, short history of these prizes. Portorrican trap and reggaeton singer Bad Bunny leaded the Spain Top 100 albums 2020. Millions of streams of his songs made him merit this outstanding position and also went home with the Latin Odeón Artist award.
The list of winners completes with the categories recognising Best Artist in different genres. María Toledo was the artist to reveal the Best Flamenco Odeón Artist, awarded to all-proof María Jiménez. Vetusta Morla and Leiva merited the Alternative Odeón Artist and Rock Odeón Artist, respectively. Idol Pablo Alborán, one of Spanish artist with greater prestige in music panorama, won the Pop Odeón Artist Award. Last but not least, C. Tangana got the last of Awards presented this second edition of prizes. Madrilean get enough credit with his cumulative success to receive the Urban Odeón Artist, highly topical at the moment due to the launch of his recent long play.
Here is the full list of winners.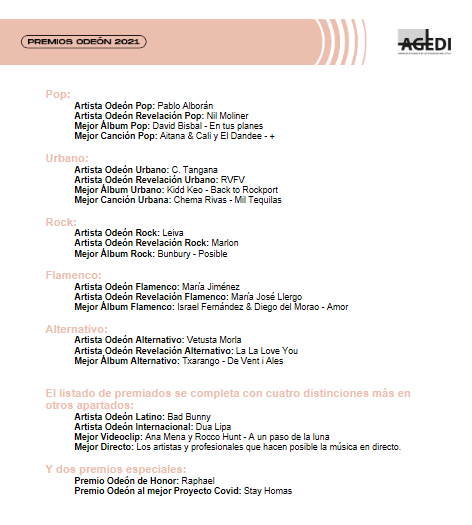 #PremiosOdeon