Revenues from recorded music grew by 4.4% in Spain in the year of the pandemic
Digital market exceeds 82% of total sales and compensate the drops in other sources of income
Revenues from public performance plummeted due to the closure of entertainment premises and, together with physical sales, are the areas most hardly impacted by the pandemic
Paid streaming reaches 3.7 million subscribers
Published the Global Music Report 2021, the annual recorded music report
Recorded music industry in Spain closed financial year 2020 with revenues totalling 354 million euros, figure that means 4.4% growth compared to previous year's 339 million. With these results, the recorded music sector gets to overcome a year full of difficulties, which started with the very beginning of the pandemic, with shops closed all over the country, physical sales almost completely stopped and a sharp drop in streaming consumption during the first months of the lockdown. Fortunately, this trend could be reverted as months went by, partly because of the degree of digitalisation of the market, as a result of the efforts made to adapt to users preferences along last years, as well as to the uninterrupted release of new music every week, arriving as usual to streaming platforms and encouraging consumption.
Figures announced today by Promusicae, the organisation gathering more than 95% of the Spanish recording industry, are accounting for sales of digital and physical music (at estimated retail value), synchronisations (use of music for advertising or audio visual works) and revenues derived from intellectual property rights management. In parallel, the IFPI, International Federation of the Recording Industry, presented today in London the new report on recorded music, Global Music Report, edition 2021, compiling detailed information on Spanish figures, as well as most important countries' worldwide.
Lower growth of streaming
Against all odds, streaming music consumption, which technology was not affected by the limitations imposed by the COVID crisis and remained available, dropped during the hardest weeks of lockdown. And it did especially among premium users, while the ad-supported tier was hampered by the downturn in advertising income. This fact hampered the optimistic growth forecasts of the beginning of the year, following several consecutive years of consumption rise. When the "new normal" settled, streaming recovered, although at a slower pace than expected, finally rising to 24.4% (compared to previous year's 32%) and generating 250.8 million euros, a figure that represents 96.8% of the total digital market on its own. Paid subscriptions (157.4 million) grew back, specifically 13.5%, but they did far less than in 2019, when rise was 35%. Ad-supported audio contained the fall and accounted for 55.8 million, to a great extent due to the use of music in social media (Tik Tok, Instagram, Facebook or Snapchat), and video views (37.5 million) completed the revenues in this area. As much as 82.4% of total recorded music sales in Spain is already digital, reaching 259 million if downloads of songs, albums and videos (5.2 million) and mobile phone products, ring-back and waiting tones (2.9 million) are added, the latter maintaining their decreasing trend of last years. As a relevant detail, digital platforms already have 3.7 million paid subscription accounts in our country.
Physical market drops driven by preventive closures
The transition towards digital in the consumer preferences, already seen in previous years, was rushed by the closure of shops during the lockdown and later commerce restrictions. Due to all that, physical sales accumulated revenue falls of 24.5% regarding previous year. Down the road sales of 2.3 million copies were lost, compared to the year before, mainly compact discs. Vinyl maintained resilient and, despite difficulties in distribution, got to sell basically the same number of copies sold in 2019 (1.2 million). Physical market received 55.2 million euros, representing 17.6% of total sales of the year.
Other revenue sources for recorded music come from synchronisations and the management of intellectual property rights. As regards this section, synchronisations remain similar to last year's (2.6 million). However, the collection of collective management rights experienced a slump of 27% (37.1 million compared to 51.3 million the year before), caused to a larger extent by the decrease in the collection from the use of music in public premises due to the closure of pubs, restaurants, hotels and night clubs. Neither was a good year for the sales of hardware and carriers, encumbered by the private copying levy, nor for the sector of advertising, falling in radios and televisions and penalising the income from these areas.
In the absence of pandemic, revenues would have exceeded 400 million euros.
From 2014, the industry was recovering from a deep crisis, accumulating remarkable increases year after year that culminated in 2019 with a revenue rise of 22.5% regarding the previous financial year. Projections for 2020 predicted a similar increase percentage, truncated at the end by the coming of pandemic. Direct losses to the sector caused by the lockdown and further restrictions to commerce, tourism and restaurants activity represent 32 million euros, among the plummeting of physical sales and the sharp drop of income from intellectual property rights. Nevertheless, as a consequence of the fewer revenues from streaming during the first months of the pandemic, total estimated losses for the recorded music industry would reach 50 million euros. Therefore, in the absence of the crisis caused by COVID, the industry revenues would have surpassed 400 million euros.
Global Music Report 2021
The recorded music market grew 7.4% worldwide last year, according to the Global Music Report 2021, presented in London by IFPI. Global revenue figures reach 21.6 billion dollars, where the growth of streaming is to be highlighted, already accounting for 443 million paid subscriptions worldwide. According to this report, Spain remains at a sharply lower growth, taking into account that the share of Spanish revenues is even lower, 1.4%, as IFPI does not account for sales in retailer prices but oor income generated by music producers. According to that methodology, in 2019 Spain grew 16.3%, which reveals the enormous impact caused by the pandemic.
Remarks from Antonio Guisasola
Antonio Guisasola, president of Promusicae, acknowledged the industry's difficulties when announcing 2020 figures. "Recorded music has been able to overcome a complicated year for the economy, in a road loaded with obstacles representing a new challenge for the industry. Arriving with the lesson learnt, after years of crisis and reinvention, has provided a certain advantage, although we have put to the test, one more time, our ability to cope in most complicated times. Music is a basic good, and as such, it has not failed in this crisis. Public has welcomed each new song and streamed concert as a breather valve to evade, to intensify their emotions, or even to create anthems representing a whole generation". He adds: "I feel a special satisfaction when presenting these positive figures, as this is a most delicate time for our artists, who still don't know when the necessary contact with their public shall be recovered, after so many months of slowdown in their life touring activity. The effort made by companies to keep a part of the income of creators during the pandemic has been essential and the Spanish society has responded with their daily consumption. For artists and for all of us working to make possible their creative talent this is the best reward, as it is for the culture and the economy of the country". He ended saying that "All in all, they are still modest figures for the music sales, but it is not to forget that they mean a primary source of income and they allow to go on with activity in a situation entirely different to all that had been experienced before".
To review the Report on Recorded Music in Spain 2021, please click below: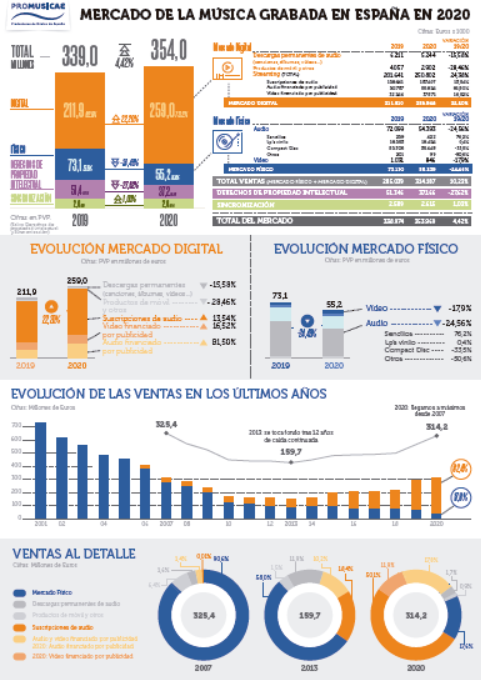 For more information:
Relabel Comunicación: + 34 91 435 68 08
E-mail: prensa@relabel.net